The best way to read on-the-go
Right now, Amazon has a great deal on the Kindle version of Marble on a Table: A Novel. You can add the audiobook version for just $7.49.
It's the Kindle and Audible versions together for the price of a paperback!
Why get two versions of the same book? Because of Whispersync. (More on that below.)
Here's how you get both
Before you buy the Kindle version, select the box, "Also buy Audible narration for $7.49"
Download Audible for your device and sign-in with your Amazon account. The audiobook version will be there waiting.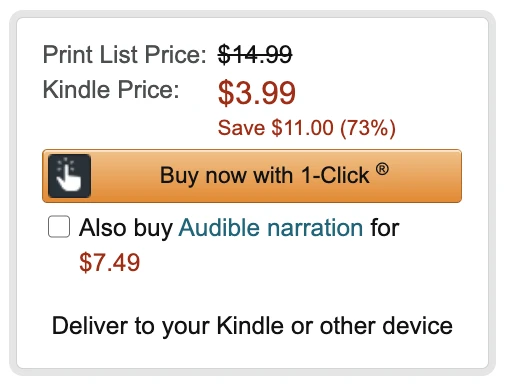 Why get two versions of the same book? Because of Whispersync.
Use Whispersync to read and listen back and forth
Whispersync is an Amazon feature that tracks your reading and listening progress. Listen to the audiobook version for a while and the Kindle version will advance to where you left off.
With Whispersync, you can listen to the audiobook in the car. Then keep going on your Kindle.
A low-priced way to dive in
We love the premium feel of our paper editions. And yet, we understand the value of an introductory price point. Digital versions are also easier to work with these days.
With our audiobook retailing for $23.95 on its own, getting it for $7.95 with the purchase of the ebook is a great value.
We hope you give this deal a whirl. Let us know what you think.